Finest Imaginary's Top 10 Best Sellers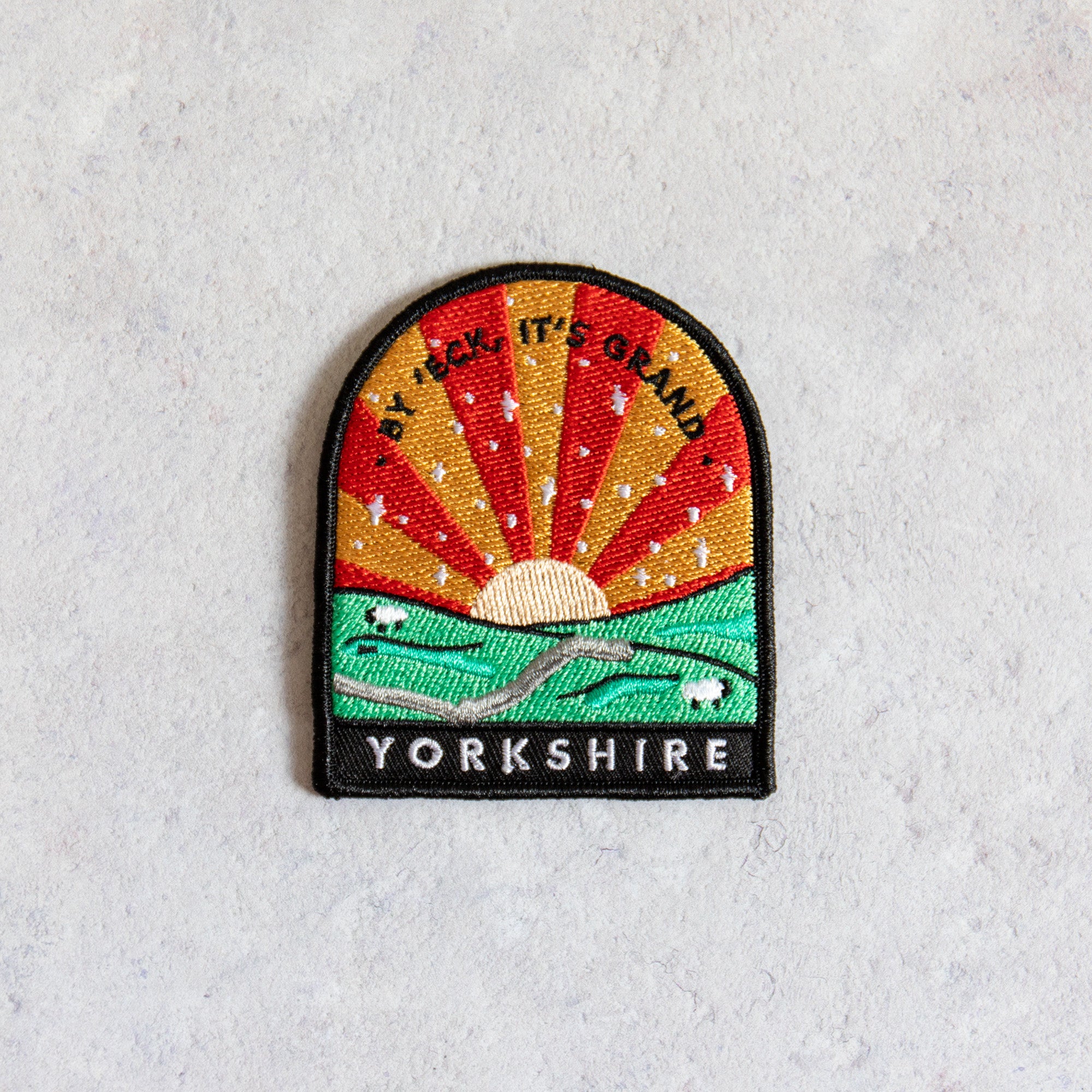 If you've ever wondered what's hotter than hot at Finest Imaginary, you're in for a real treat. We're about to embark on a whimsical journey through our dopamine wonderland – presenting you with our "Top 10 Best Sellers" at Finest Imaginary!
The "It'll Be Reet" pin, a true fan-favorite, is a little reminder to stay positive and keep your chin up through life's ups and downs. This charming Yorkshire pin captures the essence of hope and resilience, serving as a tiny talisman that says, "Don't worry, it'll be alright!" It's a small accessory with a big message, perfect for spreading good vibes and adding a touch of optimism to your day.
By 'Eck It's Grand Iron on Yorkshire Patch
The "By 'Eck It's Grand" Iron-on Yorkshire Patch is a delightful tribute to the beauty and warmth of Yorkshire. With a touch of Northern charm, this patch celebrates Yorkshire's unique culture and sense of community. It's not just an accessory; it's a declaration of love for "God's Own County." Iron it onto your favorite jacket or bag and wear your Yorkshire pride with style. It's the perfect way to show that you're a true Yorkshire enthusiast.
The Monstera Leaf Coasters are a touch of tropical paradise for your home decor. Crafted with precision and an eye for detail, these coasters bring a fresh and exotic vibe to your living space. The intricate monstera leaf design is not only visually appealing but also serves as a practical way to protect your surfaces. These coasters are a must-have for plant lovers and anyone looking to add a hint of the jungle to their home.
Less Intense, More in Tents Camping Patch
The "Less Intense, More in Tents" Camping Patch encapsulates the essence of laid-back camping vibes. With a clever play on words, it perfectly conveys the idea of taking a break from the hustle and bustle and enjoying the great outdoors at a more relaxed pace. This patch is a fun and lighthearted addition to your camping gear, backpack, or jacket, reminding you to savor the simple pleasures of outdoor adventures without the stress. 
The Terrarium Enamel Pin is a miniature masterpiece that captures the beauty of a mini self-contained ecosystem. This enchanting pin is a delightful ode to the art of terrarium gardening, making it perfect for plant enthusiasts, nature lovers, and those who appreciate the delicate balance of life within a small, enclosed world. 
The Great Big Weekend To Do List
The Great Big Weekend To Do List is your trusty companion for tackling all your weekend adventures and tasks. With ample space for scribbling, doodling, and organising your plans, it's the ultimate tool for turning your free time into a productive and enjoyable escape. Whether you're planning a DIY project, a leisurely bike ride, or simply some well-deserved relaxation, this list keeps you organised!
Pads Before Lads Embroidered Patch
One for the animal lovers! The "Pads Before Lads" Embroidered Patch is a fun and empowering statement piece that celebrates the importance of pets. This patch is a nod to the idea that your dogs & cats should always come before any romantic interests.
The Happy Rainbow Washi Tape is a burst of color and joy in a roll. This versatile tape adds a whimsical and cheerful touch to your crafting, bullet journaling, and gift wrapping projects. With its vibrant rainbow hues and adorable design, it's perfect for adding a playful pop of happiness to any creative endeavor. Unleash your inner artist and let this tape bring smiles to your DIY projects with its radiant charm.
The "Let's Eat" Meal Planner is your ultimate companion for organizing your culinary adventures. With dedicated space for planning breakfast, lunch, and dinner, as well as a shopping list section, it's the perfect tool to streamline your meal planning process. This delightful meal planner not only keeps you organized but also adds a touch of flair to your kitchen. It's your go-to guide for creating delicious, well-balanced meals that keep you on top of your game, making it easy to savour every bite. Bon appétit!
It'll Be Reet Large Vinyl Sticker
The "It'll Be Reet" Large Vinyl Sticker is a heartwarming reminder that everything will be okay. This cheerful sticker, with its charming design and comforting message, spreads positivity and hope wherever it's placed. It's the perfect way to add a touch of reassurance to your laptop, water bottle, or any surface that could use a dose of encouragement. With its eye-catching size, it ensures that the message is seen loud and clear, helping you navigate life's challenges with a smile. Stick it on and let the world know that no matter what, "It'll Be Reet!"
--
There you have it, dopamine hunters, Yorkshire fans and colour lovers – the top 10 best sellers at Finest Imaginary! From enamel pins to stationery, jewellery to iron on patches, we've got everything you need to add a pop of colour to your life. 

Remember, life is too short for dull colours. Let Finest Imaginary help you create a world filled with vibrancy and happiness!