How to Get More Done in Less Time: The Pomodoro Method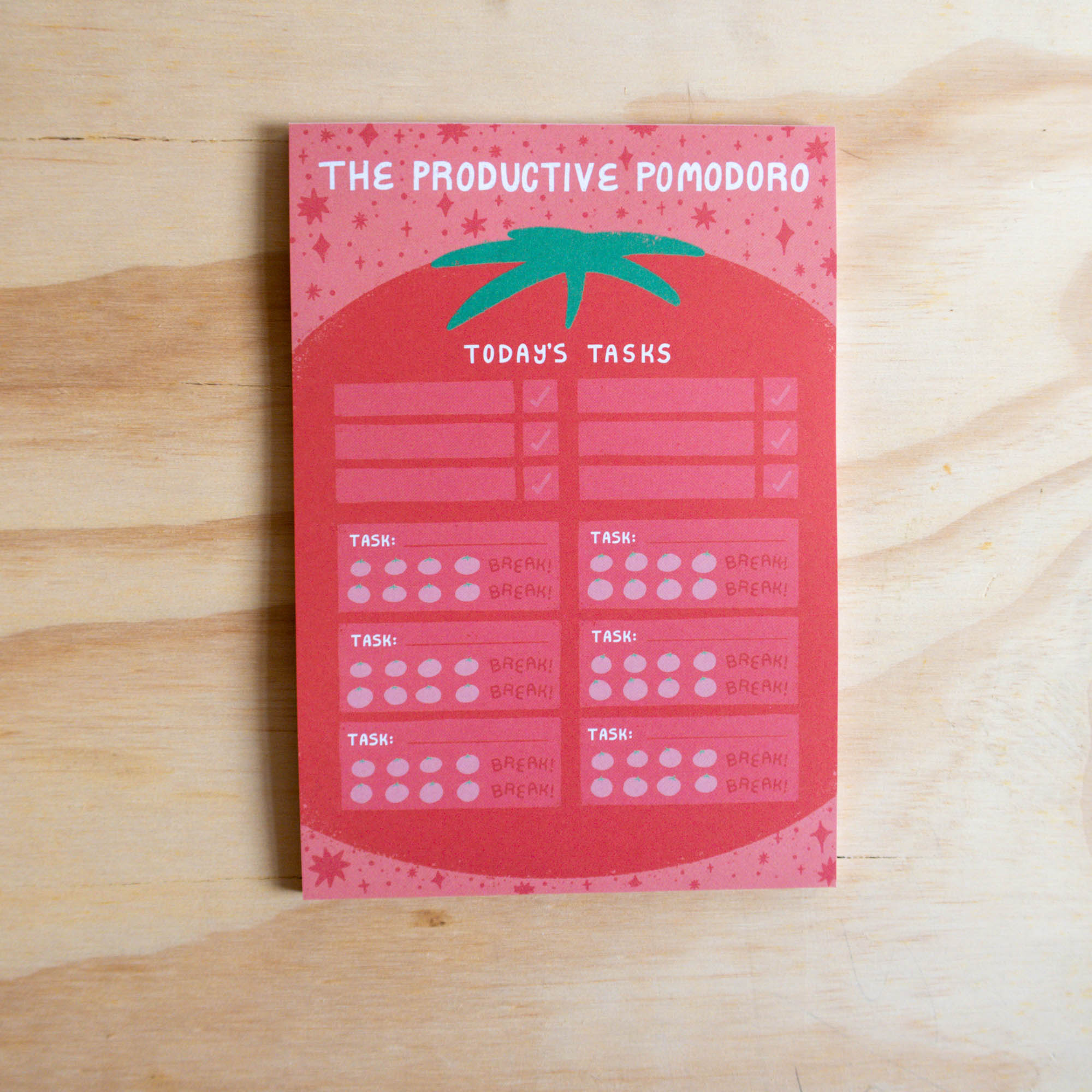 Do you ever feel like there just aren't enough hours in the day to get everything done? Same, same! Are you constantly getting distracted and losing focus? Um - yep - check! Well, fear not my friend, because the Pomodoro Method is here to save the day!
The Pomodoro Method
The Pomodoro Method is a time management technique that involves breaking your workday into 25-minute intervals, or "Pomodoros", separated by short breaks. The idea is to work in short, focused bursts and then take a quick break to recharge before starting the next Pomodoro. Sound good? Here's the full low down...
To get started, all you need is a timer and a task list - to make it even easier, I made a full on notepad to guide you through a day of pomodoros!. Here's how it works:
Choose a task from your list.
Set your timer for 25 minutes and start working.
When the timer goes off put a tick in your first tomato and take a 5-minute break.
Repeat steps 2 and 3 until you've ticked off four Pomodoros.
After completing four Pomodoros, take a longer break of 20-30 minutes.
Benefits of the Pomodoro Method
Not only does the Pomodoro Method help you stay focused and productive, but it also has a number of other fun benefits, including:
Helping you avoid burnout by preventing you from working for long periods of time without a break.
Breaking down large tasks into manageable chunks, making them less overwhelming.
Helping you prioritise your tasks by forcing you to choose what you can realistically accomplish in a 25-minute interval.
Increasing your motivation by giving you a sense of accomplishment after each Pomodoro.
Top tips for Super Success
Here are a few tips to get the most out of the Pomodoro Method:
Choose a quiet, distraction-free workspace.
Turn off your phone and other notifications during your Pomodoros.
Use your breaks to stretch, dance it out, walk around, or do something unrelated to work to recharge your brain.
Don't skip your breaks! It's important to take breaks to prevent burnout and increase productivity.
The Pomodoro Method is a super simple yet effective way to get more done in less time. By breaking your workday into manageable chunks and taking breaks to recharge, you'll be able to stay focused, avoid burnout, and increase your productivity. So what are you waiting for? Grab a timer, The Productive Pomodoro pad and start Pomodoro-ing your way to success!