It's time to celebrate the dogs in our life – meet Scout and Luna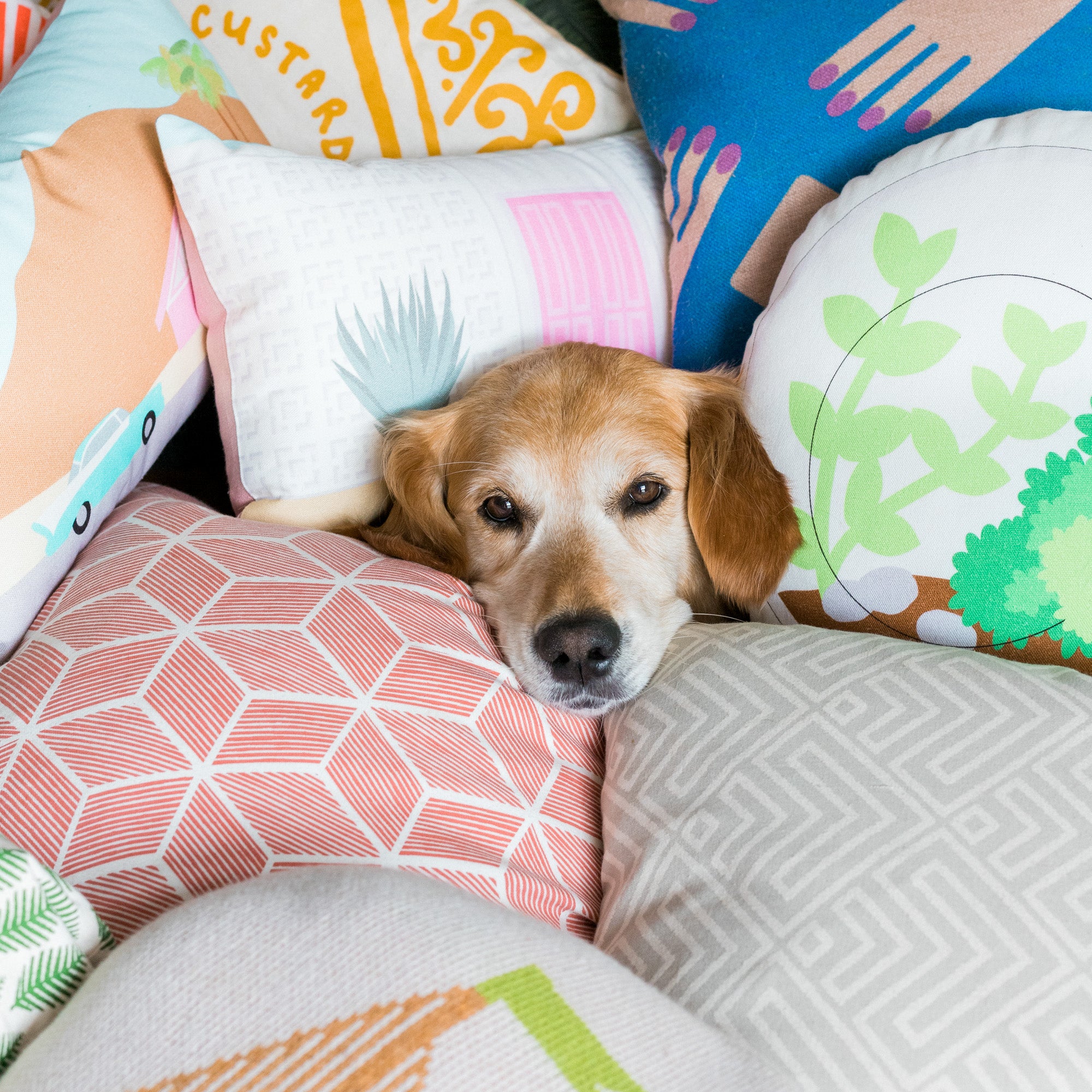 We love a good goldie, and with two furballs as residents, I think it's about time we properly introduced the golden pooches of Finest Imaginary HQ – our smiley Golden Retrievers Scout and Luna.
Meet Scout, she's 7 years old and is a big fan of sneaking onto the bed – her she is keeping me company on the job…
 Scout's got a typical golden retriever stubborn streak! She can often be found laying on her back in the middle of a walk just because we didn't go the way she wanted to go. Have YOU ever tried to move 25kg of dog?! She loves to snuggle on the sofa, will pretend to be deaf until she hears the rustle of the cheese packet, and thinks that a good towel-drying after a rainy walk is better than a spa treatment! 
And this is Luna (posing gracefully as ever), our three-year-old golden girl, and she is a real treat!
Luna still thinks she's a puppy, and it doesn't take much for her to get into zoomy mode in the park! She's obsessed with chasing squirrels (even though she doesn't stand a chance of catching one), and can often be found whimpering at the bottom of a tree when another has escaped her! Luna's favourite possession is her big fleecey cushion, I made it for her when she was a puppy after she took a liking to carrying her bed around. Her cushion gets toted around the house & she uses it as a pillow, comforter, and chew toy.
From being keen dresser-uppers at Halloween to just generally being cute as hell, our woofers have worked their way into my creative outputs on Finest Imaginary. From delving into making necklace sized replicas of Scout, so you can wear a piece of her beauty – because who doesn't love golden retriever jewellery? To reminders from us that it's pads before lads round 'ere.
Got a dog lover in your life? If you're looking for a little something to brighten their day, we've got a collection specifically – gifts for dog lovers!